In the past few years, Almost everything has been getting online. ePravesh is also one of these managements which admires and promotes online systems. This platform was introduced by the Indian community for the ease of people worldwide.
Online form filling and registering is an effective mechanism that can help you to continue your admission cycle easily.
ePravesh is one of the systems that offer Custom application forms, Financial reports, Multi-language support, Entrance exam management, and provides student Lifecycle management to fill while sitting at home.
So you can fill these applications through very simple methods and according to your ease. Like, You can write these applications in your native language and then translate them into the required one.
Online admission and fee payment management solution that is customized for various educational institutions such as universities, training institutes, and organizations.
In simple words, This is an online platform in which You can pay your semester fees or get admission to your dream institution by sitting on your couch only when you're connected to ePravesh.
Are you interested in getting further explanation? Then say tuned with us!
What Is The Purpose Of EPravesh?
The basic purpose of this system is to attract more students and build your brand name.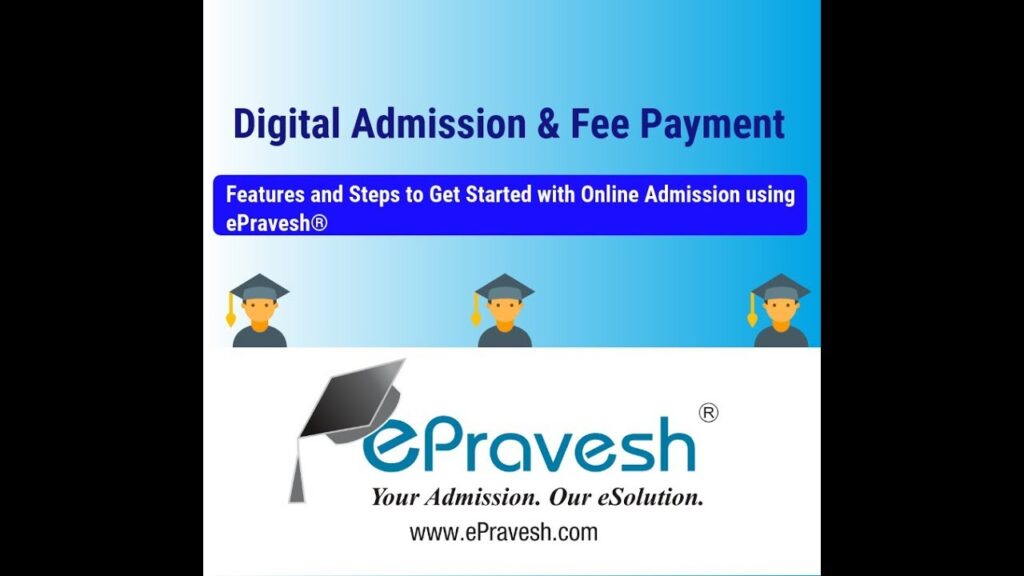 It works as a "bridge" between institutions and students which it, takes a fee from students and transfers them to the selected organization.
Thousands of academic institutions are connected with this platform, and millions of students and their parents getting benefits from it. While sitting at home, they can easily transfer money, and get admission. There's no need for paperwork anymore!
This platform is also helpful for the institutions like all those schools, colleges, and universities that are connected to ePravesh, you can get a fee with full details of that student in the form of email only, and thus it is paperless work.
How To Register As An Institution On EPravesh? – Top 5 Easiest Steps
There are 5 steps to get Subscribe on ePravesh as an Institution.
Read these steps attentively as it is a different procedure from registering as a student.
The first and foremost step is to open the "official portal" of this website by typing ePravesh.com to get subscribe here.
Then you've to put "institutional profile setup". Add all the verified information of your institution to get link to this platform.
Set up the "Bank account details" completely.
Make sure to add authentic information because this platform uses these details to send or take amounts.
The money transfer procedure takes 2-3 days as all the verifications have to be done first.
"Must add a logo" to update your profile and to increase the authenticity of your organization. That's why logos are recommended to add to your details.
At last, you have to describe the "course, application fee, Deadlines, and other parameters" to initiate the registration procedure. And you'll be registered soon on ePravesh as an institution.
How To Register As A Student On EPrevesh? – Five Effortless Ways
We've discussed brief method to get Register as a student on this organization.
Follow them carefully.
After browsing this website, Choose the section you are searching for, Like 10th examination year, 12th board, and so on, and press the "get the details" button.
A new panel with Religion, Blood Group, Gender, Confirm Gender, Marital Status, Samagra ID, Email ID, and Mobile number bar will appear. Fill in this panel, and a verification code will be sent to your mobile number.
Now you must select the password, confirm it, and go for further details.
Add your address details carefully and legitimately. And press "Next."
On this new page, you've to answer the Madhya Pradesh Domicile question, Non-Minority Status, Category, Confirm Category, etc.
Now fill in the Caste Certificate Number and total family annual income, and answer the J&K Migrant Question.
Enter all the other required and essential details and press save, and the next button after that will redirect you to the next page.
Now, Upload your scanned photograph and digital signature carefully and move to the next page.
Fill in all other necessary details and click on the next page. Now, an online application form will open on your device screen.
Now, it's time for all the payment methods. Please select your payment procedure from Net Banking / Credit / Debit Card, and that's it.
Make sure to take a print of the payment receipt after any transaction for future reference.
And You're registered now!
What Is The Payment Method Of EPravesh ?
Basically, there are two authentic and best methods of paying the amount through ePravesh.
Must check the 2nd procedure!
Online Payment
One of the simplest transactional gateways of ePravesh is an online payment system.
All you need is a Credit/Debit card, Net banking(almost all banks offer these facilities), and a Mobile card payment system through which you can easily pay for that respective course.
Demand Draft Method-most Easiest Payment Way
Anyone can use a demand draft method to make payments from one bank account to the other.
Add all the demand draft details completely in an application form here.
Whenever the institute receives the amount, You'll get a confirmation email.
And Wala! You're done with the Transaction.
How EPravesh Keeps You Updated?- A Way Of Communication
The algorithms of ePravesh manage all the affairs, including centralized admission, to automate allocation procedures, generate certificates, and to keep its users updated on every single process very efficiently.
Institutions and Students get connected through e-mails and SMS via ePravesh.
The candidates are able to send softcopies, applications, digitally signed pictures, or copies.
Like-wise the institutions update their community very well. All the Latest merit lists according to criteria like domicile, mark sheet, category/sports certificate, and all the other academic certificates can be transmitted through epravesh.
That's how it keeps you updated and well aware-of all the affairs.
And can you see now, There's no need for paperwork. Everything is just getting digital, including these complicated systems.
Awards Of EPravesh:
ePravesh believes that students will find it easy to have a single point of access, for all their admission-related problems, And they're able enough to choose the specific institution they want to get in.
Because of this incredible management throughout the world, e-Pravesh has been granted many medals and awards.
This platform has won the Award of India's TOP Software Project of the Year 2012.
ePravesh has also won CXO Awards 2011'Jury's nomination.
The hottest 100 startups are also won by ePravesh.
The Hottest Indian eCommerce Startup also goes to ePravesh.com
The winner of ET Power of Ideas is this automated allocation organization.
Conclusion:
Finally, summing-up up that, ePravesh is one of the foundations which tries its best to reduce the paperwork and make everything digital.
If we think for a second, it seems to be very hard to replace all the paperwork with the digital system.
But, Epravesh is sorting this matter by connecting institutions with the students/parents to pay while sitting at home. All the methods discussed above that how this platform makes these parties able to communicate, send/receive amounts, and To get register here are explained briefly.
Please read them carefully to understand the system and purpose of this platform!