Whenever looking to hire a company to take care of your SEO needs, you always want to hire the best as much as possible. However, with less knowledge of the things that you need to look for in your ideal SEO Company, you'll end up with services that are less than what you expect, and you'll just be flushing your money down the drain. In this article, we will be sharing with you the most important factors to consider whenever you're looking for a reliable SEO company to cater to your needs.
Why SEO Is Important For A Business?
Before we head out to the considerations of finding an ideal SEO company, let us first understand its importance and how it can benefit any business.
Enhances visibility and branding
Business owners integrate SEO blog writing service into their websites because it enhances visibility in search engine rankings. The way search engine rankings work is that the website with the most views and visits lines up on the first page of search results. Automatically, users or potential customers click the first links within the first page, giving those websites better chances of making a sale.
Builds website credibility
Being on top of search engine results provide a lot of perks for a specific website. It doesn't only provide better chances of getting viewed, but it also improves website credibility. Seeing that the website is found over the top results of a search engine, users immediately believe that it is the most trusted and most reliable choice among others.
Best advertising ROI
SEO marketing uses inbound marketing to focus on target customers who are looking for the products or services of a website. With this kind of approach, there will be no reason to convince a potential customer to purchase or subscribe to services or products. This allows for better performance when pursuing advertising ROI.
How To Find The Ideal SEO Company For Your Business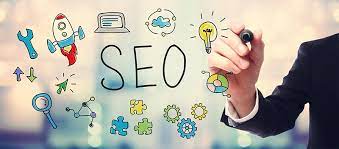 Finding the ideal company to cater to your website's SEO needs is practically simple. The ideal SEO company understands what clients want, (white label SEO or Black label SEO) as well as what search engines want.
While it is obvious that clients want better traffic for their website, search engines such as Google have a particular criteria and features when choosing the websites to add in their top list. The following are the most important areas and features which the best SEO companies have.
Domain authority
Domain authority(DA) shows how well a website ranks in a search engine. This is primarily determined by the quality of links integrated with the website and other factors that could affect the domain authority score of a website. Each new website starts with an authority score of 1, and as it prospers, it builds up its score. Examples of the top leading domain authority scorers include Wikipedia and Google.
Adaptability to Google's algorithm
The ideal SEO company should be able to adapt quickly to the occasional updates and upgrades to Google's algorithm. Search engines such as Google regularly update their algorithms to adapt to technological advancements, modern trends, and the demands of their users.
This is also a way to keep their engine running smoothly without encountering any issues. Google only wants the best quality websites in their list and it is important that websites incorporate relevant means to deal with its algorithm.
An SEO Specialist in Bangladesh from an SEO company will immediately detect changes in algorithms and can quickly create systems and enhancements for a website to adapt to it.
Linking
Linking to websites is among the top ways how a website earns traffic. However, it is important to only link to relevant pages and websites, seeing that linking to the wrong page can stain a website's ranking or credibility. Understanding the right places to link to along with the proper techniques on how to do it can be provided by reliable SEO company service providers.
Aggressive tactics
What we do not know is that SEO companies could also perform some aggressive tactics which enables them to raise a website to better rankings. An example of these tactics is when they incorporate the word "best" in their targeted keyword, which not only enhances the look and sound of their content but also raises the ranking of the particular website seeing that users love to key in "the best" in most of their search queries.
Black hat SEO companies are also able to bring down its client's competitions by using underhanded tactics such as creating lousy domains to link to competitors websites. This results in poor link quality which could drag a website down the rankings.
Traffic tracking
Among the best perks to have whenever you're working with the right SEO Company is that you are able to track your visitors behavior as well as the overall performance of your website with regards to traffic.
A major consideration that SEO companies bear in mind in this regard is the bounce rate of a website which involves the frequency of when a user clicks and leaves a page. The bounce rate or also considered the time of stay can be reviewed and used by SEO companies in order to improve a website's ranking.
Keyword targeting
Using the right keywords in content allows to be easily pulled out by search engines whenever the keyword is looked up by a user. However, if the keywords are poorly positioned in content and does not have relevant setups such as headers, tagging, and others, it may lose credibility. To be able to utilize the power of keywords fully, it is always important that the ideal SEO company is used.
There are practically a lot other features to find in your ideal SEO company. However, it is also important to consider their reviews and previews projects. Usually, you get to know the quality of their work by simply referring to what previous customers and clients say in their reviews.