If you're looking to connect with someone via email, LinkedIn is a great place to start. By default, you need to have a first-degree connection with someone on LinkedIn to see their email address.
However, there are some effective ways that you can use to find email on LinkedIn.
Here are some techniques to use when you want to find someone's emails from LinkedIn:
Use The Company Website
Many companies list their employees' contact information directly on their websites. Try looking for a "Contact Us" or "About Us" page, which often displays employee email addresses.
Visit The Person's Profile Page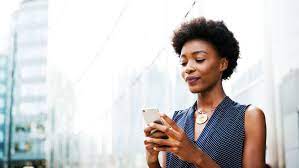 From the search bar at the top of your homepage, enter the name of the person whose email you're looking for. This will take you to their Profile page. Scroll down to their contact info.
On most profiles, there will be a section labeled "Contact info" or something similar where you can see any contact information that has been made public.
Reference A Mutual Connection
If you can't find the email on their profile, you may be able to leverage a mutual connection. Reach out to the person you both know and ask if they can put you in touch with them.
Reach Out To The Person Directly
To do this, send the person a message via LinkedIn. Let them know who you are, how you met (if applicable), and why you need to get in touch with them.
In some cases, people will provide their contact information willingly or at least let you know which email address of theirs would be best to use.
If you want to seem sincere, show an interest in the person you're messaging. LinkedIn lets you check what kinds of things a user is interested in and what groups they're part of; use this information to your advantage.
Also, be address formal— them by name and end the message politely as if you were closing an email.
Use A Professional Email Finder Tool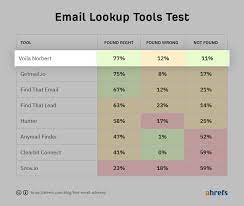 Suppose the person you're looking for doesn't have an email address on their profile. In that case, email finder tools like Swordfish Ai, Zoominfo, ContactOut Hunter and VoilaNorbert can help you quickly and accurately track someone's email from LinkedIn.
Swordfish AI is another excellent tool for finding emails from LinkedIn. It can help you uncover the email addresses of people who aren't connected to you on the website.
If you want to find emails on LinkedIn on contacts in the B2B space, ZoomInfo is a great tool. It gives you access to over 200 million contacts, including email addresses and other contact information.
Hunter uses publicly available data to locate hard-to-find contact information, while VoilaNorbert has a powerful search engine that allows users to find emails by name, domain, or company.
Use A Chrome Extension
You can easily find email addresses on LinkedIn by using a Google Chrome extension. Extensions are apps you add to your browser and usually come as part of an email finder tool suite. Even though you need a Gmail account to use most extensions, some tools only work with Chrome.
There are a few different Chrome extensions that allow you to find emails from LinkedIn. Some of the most popular ones include ContactOut, FindThatLead, UpLead, and Skrapp.
Use The Contact's Name And Guess
If all else fails, you can always guess the person's email address. Many times, people use their names as part of their email addresses. Try variations like "first name – last name" or "initials – last name."
For example, if someone's name is John Smith, try john.smith or jsmith. Be sure to test different domain names and extensions (i.e., jo[email protected]) to increase your chances of success.
Look It Up In Linkedin Sales Navigator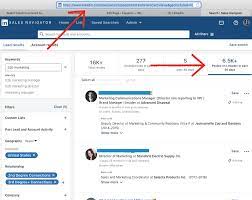 If you're a paying member of LinkedIn, you can use Sales Navigator to find a person's contact information. This tool allows users to search for contacts by industry, title, or location and refine their search with advanced filters.
Once you enter the criteria for your search, Sales Navigator will generate a list of potential matches with their contact information and other details such as their current job title and company.
You can then select one of the profiles from the list to view more detailed information about that person. From there, you'll be able to see any social media profiles they have (including LinkedIn) as well as any email addresses they may have included in their profile.
LinkedIn Sales Navigator lets you do more specific searches on LinkedIn to find leads interested in what you're selling. It doesn't provide email addresses directly, but it's a great way to connect with potential customers.
It will give you a lot of high-quality leads, which you can then email and supercharge your outbound marketing campaign.
As previously mentioned, LinkedIn Sales Navigator is a paid tool. The cheapest plan starts at $64.99 per month, which may be too expensive for some startups looking for a LinkedIn email finder.
Combine Google And Linkedin To Find Email
If you're not a first, second, or third-degree connection to someone's LinkedIn profile, chances are you won't be able to access their emails from the site.
However, there is still a way to obtain this information by using Google Search in combination with basic details found on LinkedIn, such as the individual's name and the name of their place of work.
You can search for the individual's name and company on Google. Then use the 'Advanced Search' feature to narrow down the results to only those from LinkedIn.
Doing this should open the person's profile. It will be visible if they display their email address on that profile. You can also find emails in the style of an email address.
For example:
The "site" search command can also help you look for information on the company website. Here are the examples:
Conclusion
At the end of the day, finding emails from LinkedIn isn't always easy, but it doesn't have to be a cumbersome process. There are several tools designed specifically for this task.
By following these steps, you should be able to find someone's email address on LinkedIn. Just remember that it may take some time and effort before you are successful.
Don't give up if your search isn't successful immediately – keep trying different methods until you succeed.